APLV-Intolérance au lactose : au final, qu'est-ce que je mange ?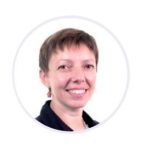 Attrapez votre café et venez assister à la « Pause café de l'APLV ».
Un live de 20 minutes maximum pour échanger avec Line SAMIER (responsable des affaires médicales chez NUTRICIA qui a été diététicienne pendant 20 ans au CHU de Lille).
Vous pourrez retrouver les lives en replay sur cette page.
Références :
https://static.produits-laitiers.com/espace-pedagogique/wp-content/uploads/sites/2/2018/02/affiche-principaux-procedes-transformation-du-lait.pdf
Dennis A Savaiano(2014) Lactose digestion from yogurt : mechanism and relevance, American Journal of Clinical Nutrition ; DOI :10.3945/ajcn.113.073023
"Yogurt is traditionally consumed throughout the world among populations who are seemingly unable to digest lactose. This review provides a historical overview of the studies that show lactose digestion and tolerance from yogurt by lactose-intolerant people. The lactose in yogurt is digested more efficiently than other dairy sources of lactose because the bacteria inherent in yogurt assist with its digestion. The bacterial lactase survives the acidic conditions of the stomach, apparently being physically protected within the bacterial cells and facilitated by the buffering capacity of yogurt. The increasing pH as the yogurt enters the small intestine and a slower gastrointestinal transit time allow the bacterial lactase to be active, digesting lactose from yogurt sufficiently to prevent symptoms in lactose-intolerant people. There is little difference in the lactase capability of different commercial yogurts, because they apparently contain Lactobacillus bulgaricus and Streptococcus thermophilus in sufficient quantities (10(8) bacteria/mL). However, Lactobacillus acidophilus appears to require cell membrane disruption to physically release the lactase. Compared with unflavored yogurts, flavored yogurts appear to exhibit somewhat reduced lactase activity but are still well tolerated."
https://pubmed.ncbi.nlm.nih.gov/24695892/